Fairview Heights Subdivision
Sanpete County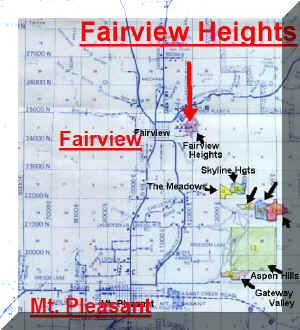 Access: Fairview Heights is a year around subdivision just east of the main part of Fairview. It has paved streets, city water and power. It would probably not be considered a recreational subdivision. Driving time is approximately an hour to Mt. Pleasant from Provo and about one hour and forty minutes from Salt Lake city
Water: Fairview City Water Check out the water Regulations!
Power: City power
Conditions, Covenants, & Restrictions: Click on the image to view the CC&R'S

These are the CC&R'S for Fairview Heights.
Shopping and Commercial areas:
Fairview has several gas stations, a couple of small restaurants and an atv outlet. It also has a nice museum with a full size Wooly mammoth skeleton, as well as, sculptures, painting and many other items.
| | |
| --- | --- |
| | Fairview Heights Properties |
| | |
| --- | --- |
| | Land Use Ordinance |